How much can you get for scrapping a car?
Cash for Cars Melbourne can tell you – over the phone itself. Used Car Buyers in Melbourne, we are Cash for Car dealers who offer you Car Removal Services you can trust to give you the best available price there is for your vehicle. 
Used Car Buyers in Melbourne with a difference – we pick your car up from your home! 
That's right, wherever you live in Melbourne, we will drive to you to pay you your cash and pick up your car after we do so. 
We buy all car brands
We buy all car brands
Fords

Ford Falcon 

Ford Focus

Ford Mondeo 

Ford Escape 

Ford Endura 

Ford Everest 

Ford Ranger

Ford Raptor  

Plus the Ford Transit Commercial Range 

Holdens 

Holden Acadia 

Holden Astra Hatch

Holden Astra Sedan

Holden Colorado

Holden Commodore 

Holden Commodore Tourer 

Holden Commodore Sportswagon 

Holden Equinox

Holden Trailblazer

Holden Trax

Toyota  

Toyota Yaris  

Toyota Hilux

Toyota Corolla 

Toyota Prius 

Toyota C-HR 

Toyota Camry 

Toyota RAV 4

Toyota Hiace 

Toyota Kluger 

Toyota Fortuner 

Toyota Landcruiser 

Toyota Supra 
Note: while these are the 3 most popular car brands we buy- we will buy any car, any condition – make or mode. 
Note: while these are the 3 most popular car brands we buy- we will buy any car, any condition – make or mode.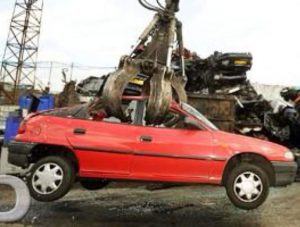 Auto Wreckers in Melbourne, we also sell used car parts for a living 
Besides being Cash for Car dealers in Melbourne at Sell Cars for Cash, we also sell used car parts to the public and garages and mechanics in Victoria. 
It is because we resell car parts and recycle the metal bodies of old cars, that we can afford to pay you for your old car should you choose to sell it to us. 
With an excellent reputation for customer service, ethics and standards second to none, we are the Car Removal Service Melbournites can trust. 
Speed is of the essence  at Sell Cars for Cash Melbourne 
Nobody likes to be kept waiting when it comes to receiving cash that's due to them. At Sell My Cars for Cash, we fully understand that. 
The moment a customer agrees to an offer, we drive to their home, pick up the vehicle and hand over their cash to them on the spot. 
How much will you receive  for your car if you sell it to us at Sell My Car for Cash? 
To be truthful, it all depends on your vehicle's age, make, model and condition.  
The best way to find out what price you can get is to give us a call at Sell My Car for Cash Melbourne. 
Sell my Car for Cash is a Car Removal Service you can trust
We make sure our clients receive the best possible price they can from the market

We benchmark our prices to ensure they match or beat our competitors'

We guarantee service that is reliable, punctual and friendly 

We drive to our clients' homes to pick up their vehicle after we buy it off them 

We pay cash on delivery of the vehicle 
Sell Cars for Cash is a registered Cash for Car company in Melbourne 
We have strict rules about the way we do business. Honesty, ethics and transparency guide our every decision. What this means for you is – we are a Cash for Company in Melbourne that you can – trust! 
To obtain a FREE Quote for your car, please call us now on 0432 012 232
Very happy with the service provided by Sell Cash For Cars Melbourne and highly recommend...
Mark Murray – Sunshine Victoria
Excellent Support And Best Service- Hats Off To Sell Cars For Cash Team . I...
Wincent -Melbourne
I am Extremely happy with the service for Sell Cars For Cash Company, that I...
Diane – Altona
My Vehicle Quickly Towed Away to my home from the Great Western highway, it was...
Regan – Frankston
I found that Sell Cars for Cash is an Insured Removal service and they removed...
Trump – Laverton